It almost sounds like science fiction but it's not, the first humanoid robot has been sent to the International Space Station with the last mission for the Discovery space shuttle.
What is the Robonaut humanoid?
The best way to define the Robonaut I think is to quote the official site: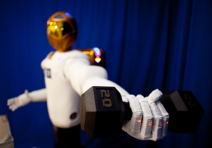 "A Robonaut is a dexterous humanoid robot built and designed at NASA Johnson Space Center in Houston, Texas. Our challenge is to build machines that can help humans work and explore in space. Working side by side with humans, or going where the risks are too great for people, Robonauts will expand our ability for construction and discovery."
- Sounds impressing, doesn't it?
But let's take a critical stance and question our excitement for a minute, is it as fantastic as it sounds?
Background
The Robonaut is developed by Nasa and GM, but if you think about it Nasa has already made fantastic achievements in the robotic field, just think of the mars rover projects. The only thing you need to keep in mind is that those weren't humanoid robots. So what's the deal with this hype regarding the first humanoid robot in space, probably just that it is easier for us to relate to something that has a human form. It certainly won't be able to achieve more advanced tasks just because he has a human appearance. And I suspect the people at Nasa already know this.
Robonaut 2, Mission
This is a quote from Quote from the official site Robonaut IIS site:.
"R2 will be confined to operations in the station's Destiny laboratory. However, future enhancements and modifications may allow it to move more freely around the station's interior or outside the complex."<
- Read carefully, "future enhancements", "may allow", that means he won't be able to achieve much more than pushing buttons for now. Heck, it could take decades until he reaches the advanced state of being able to move freely around the station performing actual work tasks. Especially since his legs hasn't been sent there yet.
But that's not all, you can follow him on twitter and facebook, but again, he's not actually updating his statuses himself, there's a group of people here on earth who does that for him/it.
Conclusion
I have no doubt that Robonaut is a fascinating and fine piece of technology, and it may very well be a landmark in the development of humanoid robots, but for now I don't see the reason behind the hype. The videos showing him in action doesn't help either. So far I haven't seen him do anything that the Honda Asimo can't do, and he's old news.
Links
Official site: robonaut.jsc.nasa.gov
Follow Robonaut on twitter click here.
Read more on Nasa.gov here.
View a short video of Robonaut 2 here.
A critical view on Robonaut 2 from Singularity Hub