A low cost Android 4.0 tablet, could this be any good?
While the manufacturer Denver Electronics has earned a reputation for low priced electronics, the quality of the tablet did by far exceed my expectations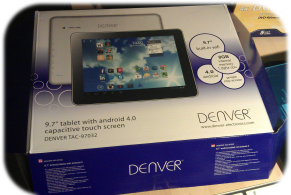 Basic requirements
I have few requirements when using a tablet. Basically what I want is something to browse the internet with, and to be able to stream music and video without experiencing the playback as choppy in my private WIFI network. It also needs a decent price tag.
I purchased this tablet and expected a tablet with very poor performance and a plastic feel to it.
Unpacking
The first thing I noticed when unpacking the box was the tablet had a nice "heavy" feeling to it instead of the lightweight crap you would expect for low priced electronics.
Next thing, I noticed it had a mini HDMI connection to be able to project the tablet's screen on my TV. The android 4.0 tablet actually had plenty of connection capabilities as it had both a USB Host and Micro USB socket.
Testing
Browsing the Internet, The pre-installed browser is fairly quick to open and as in most tablets the user interface reminds a lot of Google Chrome for Windows with it's tabbed browsing etc. It works fairly well and quick as long as you don't browse your way in to sites with lots of Flash objects or multimedia, this slows down the browsing quite a lot. Unfortunately most news sites have heavy flash ads and because of that I tend to avoid these sites when I'm using the tablet.
When using it to simply google around and surf the net with no actual goal it performs sufficent. No more, no less.
Camera, 0.3 mp front camera, 2mp back camera. No flash. Nothing special.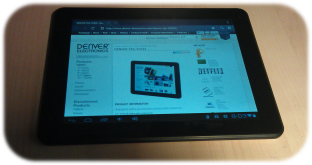 Sreen, the 9.7" screen itself responds well to touches and the resolution together with its other properties allows for quite a comfortable reading device. Sometimes though, when watching video or pictures with many colors in high definition you can see a few stripes, nothing that bothers me but if you're a graphics geek I guess this device is not for you. The only major drawback with the screen for me is that it's easily scratched. I have kids. I know. Trust me. Don't even let your kids look at your device.
Audio, the playback of audio has decent quality, but I recommend using external speakers or earplugs as the volume and quality appear a bit limited with the internal speaker.
Video, this is what made this device a winner for me, I can stream tv show episodes and movies just fine and that is a life saver when not being able to sleep properly. Also the screen light, in some mysterious way, seem to not disturb my wife as much as my significantly smaller HTC Sensation during the ungodly hours at night :)
The HDMI connection works great by the way.
Battery Life, this one is tough to describe as it very much depends on what you have installed on your device and how heavily it is used. I have a few apps installed, and no widgets activated that should drain the battery, and so far it seems I can easily use the tablet for about three days without loading it. Usage for me though is restricted to browsing the net and watch a few online videos for about two hours a day.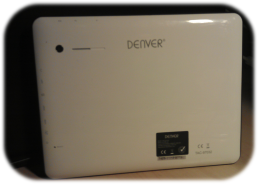 Pricing, not much to say here except that you get far more than you pay for in comparison to many other tablets in the same price range. It's currently available for about 270 USD, and I purchased mine on a sale for 216 USD.
Performance, the performance, if I am to compare it with something, is very much like the HTC Sensation running Android 4.0, but with slighly better flow and responsiveness.
Summary
If you're looking for an Android tablet with a decent price tag this is probably what you want. The only thing I've found that doesn't seem compatible with this device is Skype. The sound volume is far to low to be able to use it, at least with my headset. To summarize the experience of using the tablet in one word: Decent
Official product page: Denver Electronics
Android Tablet Denver TAC-97032
A low cost Android 4.0 tablet, could this be any good?
While the manufacturer Denver Electronics has earned a reputation for low priced electronics, the quality of the tablet did by far exceed my expectations