The two shuttles Discovery and Endeavour are being retired, does that mean that space exploration will stagnate?
- Nope. Nasa is performing some rigorous testing of the new Mars rover Curiosity, or MSL as it is called. The new rover, as the name suggests, will be able to gather and analyze more information as it weighs four times more and is about twice as big as the previous two rovers Spirit and Opportunity which landed on the surface of Mars back in 2004.
MSL Mission
Curiosity is scheduled for touchdown on Mars sometime in August 2012 after hitching a ride on top of an Atlas V rocket. There are two areas where the rover might land, both of which are believed to have had water flowing nearby a long time ago. That increases the chances for the its main mission which is to find out whether or not Mars is or previously has been well suited for microbial life.
Testing of Curiosity
The testing of the MSL is being carried out in a vacuum chamber at Nasa Jet Propulsion Laboratory where the conditions have been set to simulate the harsh Martial environment, the atmosphere on the red planet is only about 0.6% as thick as the atmosphere here on earth, and using liquid nitrogen the temperature in the chamber is being decreased to minus 130 degrees Celcius or 202 degrees Fahrenheit. Once the tests has been successful the Rover will be shipped to Kennedy Space Center for the final integrations before the launch in November 2011.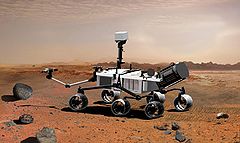 Concept Artwork, credit: Nasa
New Technology
It's not just the size of the Rover that makes it impressive, the landing method has also been improved since Spirit and Opportunity landed. Instead of using airbags it will utilize a unique and innovative helicopter-like sky crane approach. This sky crane method allows for a lot more weight, and this is well needed seeing Curiosity carries ten times more scientific payload than that of any prior Mars rover.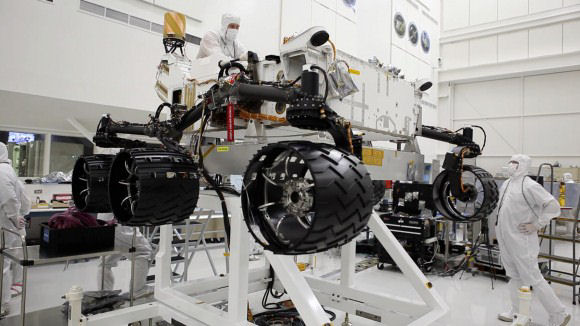 Engineers working on the rover. Credit: NASA/JPL-Caltech
Expected operational time
Seven years after the landing of the two rovers Spirit and Opportunity, Opportunity is till operational and communicates data back to earth, what has happened to spirit is unknown since it entered hibernation in March 2010. The expected operational period of Curiosity is at least one Martian year (686 days on earth), it seems a bit short termed, but consider the Spirit and Opportunity mission was only expected to last a few months.
Conclusion
The Curiosity rover may have what it takes to prove that we are not entirely alone in the universe, and in the process give us important information on where life comes from and how it develops.
Sources