By digging up Martian soil and thoroughly isolating genetic material from microbes, scientists could compare the genetic sequence to what we find here on Earth. The instrument responsible for collecting the genetic material is under development by researchers at Harvard and MIT and could catch a ride with a rocket to Mars in a decade or so.
Microbes were the first astronauts
MIT Researcher Chris Carr, responsible for the life detecting device, SETG (Search for Extra-Terrestrial Genomes), says that if we do find life on Mars that we are related to, it's possible that we have our roots on Mars. Though not entirely impossible, it could also be the other way around, but orbital dynamics shows that it's about 100 times harder for a rock to travel from Earth to Mars than from Mars to Earth. Microbes are incredibly hardy and could very well survive the journey, even if the rock was launched as a result from an asteroid impact.
Mission
Mars in many ways appears to be a dead, dry and cold planet, but there's evidence that the climate of Mars once was warmer and that water flowed on the surface. It's not just to learn more about our origin these experiments are valuable, if we are to send astronauts to the Martian surface in the future we need to know if life exists and if it is related to us, and if in fact we are related we probably need to take precautions as closely related organisms are much more likely to be infectious.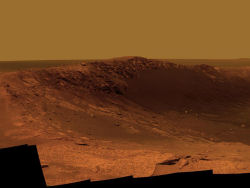 Is life lurking beneath the surface?
Picture: Credit, Nasa
The SETG will analyze samples of Martian dirt collected by a rover equipped with a deep drill, and after the RNA or DNA is amplified the search for genetic sequences that are common on Earth would commence. If we do find life on Mars, it will probably be under ground and not on the surface.
Conclusion
With the Curisoty rover and now this new device it's obvious that mainstream scientists are beginning to take life in space a bit more serious as compared to what we are used to. It's incredibly satisfying to see real effort and progress being made.
The device could, if all goes well, be sent to Mars sometime in 2018. Let us just hope for the best.
Read more
There'e plenty of more information about this device at Space.com