The space shuttle Endeavour is scheduled for its last mission, and itís cargo will hold an entirely new piece of measuring instrument called Alpha Magnetic Spectrometer (AMS). One of the more exciting aspects of the AMS is that its purpose is not to search for things we already know about, but to locate and analyze phenomena which we have not yet imagined or discovered.
The Alpha Magnetic Spectrometer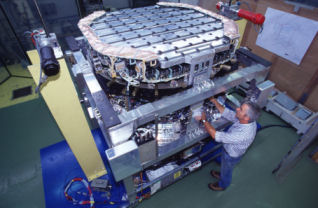 Is a particle physics detector that will primarily search for signs of antimatter, dark matter and measure high energy particles called cosmic rays.
The hope is of course that this instrument will lead to fantastic new discoveries and applications.
"When you make a discovery with a precision instrument, most of the time it has nothing to do with the original purpose. When you think about it, it's very obvious, because the expert's opinion is based on existing knowledge. To discover something new is to destroy the existing knowledge." says MIT physicist Samuel Ting a AMS principal investigator.
Preparations and expectations
The AMS experiment, funded by the U.S Department of Energy, has not been easy to realize. Ting has together with his colleagues been working on AMS for 16 years and collecting funds and approvals for the $1.5 billion experiment has not been simple. The construction, testing and operation of the experiment has involved more than 600 physicists from 16 different countries and 60 institutions.
Endeavour's scheduled launch is less than a month away, and hopefully its cargo can put a new landmark in space exploration.
Conclusion
This new instrument has the potential to discover new aspects of space that we previously have been unable to analyze or even imagine. That alone tells me that the money was well spent, even though the initial budget for the project was significantly less than $1.5.billion.
Who knows what lies ahead, but let this quote from Ting sum things up.
"To predict the future is very difficult, From discovery to application, there is a time lag – maybe 20, 30, 40 years – but once you use it, you change everyone's lives."
Sources