By the year 2025 Nasa plans to land astronauts on an asteroid, anyone thinking of the movie Armageddon yet?
Manned Mission on asteroid
The reason is however not to blow it o smithereens, but instead the intent is to gather samples. There are numerous problems that needs to be addressed though, the weak gravitation being one of them. Landing on an object with a very limited gravitation will be a real challenge for any space craft but one possible solution would be to place a rocket in orbit of the asteroid and let the astronauts get between the asteroid and rocket themselves. It doesn't exactly sound bullet proof yet, but there's still some time to think about it.
Selecting the target
Between Mars and Jupiter there's around 7000 asteroids, The exact target has not yet been chosen and it will probably take some time and effort to pick the best candidate for the mission. Nasa estimates the time to reach the asteroid around six months, which also will prove a real challenge for the members of the future crew.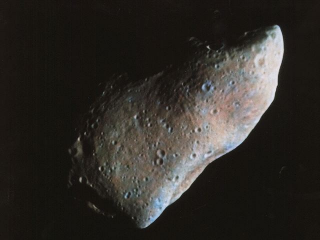 The asteroid
Gaspra
Picture: Credit, Nasa
Conclusion
Last year President Obama announced that we could expect a new space shuttle specifically made for long distance space missions to carry out the first manned mission in outer space by the year 2025. If this mission is executed it will be a milestone in human space exploration. We all look forward to see how the plans evolve.