I suspect the astronauts at IIS are like children at Christmas morning while opening the crate with the ultimate tech-toy, Robonaut. Though I'm a bit sceptical of the actual usefulness of the robot, I'm sure it will make a fine time waster for the astronauts.
Better late than never
As told in the previous Robonaut article from EnkelAdress, this could very well prove to be more of a PR stunt from Nasa and General Motors, but still, it's the first humanoid robot in Space.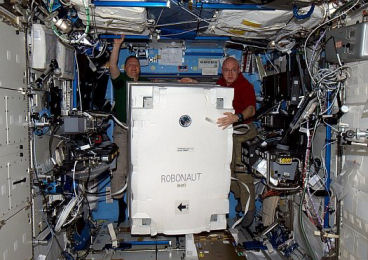 Regardless of the intentions behind sending it to space, I hope they continue to expand his abilities and enhancements.
Twitter and Facebook
At first I was a bit suspicious on what the intentions were for having him on twitter and facebook, or rather I was suspicious as to why they posted messages AS Robonaut instead of ABOUT it. Having spent some time reading up I do realize it really doesn't matter.
It's a very nifty piece of technology, but he's not the scifi-cyborg we're expecting it to be. At least not yet.
Source